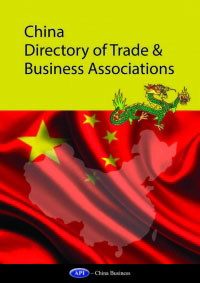 China Directory of Trade & Business Associations 2021
The ChinaDirectory of Trade & Business Associations offers more information on China's trade associations and chambers than ever before. Trade Associations, contains full details and addresses of thousands of trade associations from the industry, trade and service sectors in every Asia Pacific country. Chambers of Industry and Commerce are particularly useful for importers and exporters and for the individual chambers of industry and commerce.
Each entry contains the following details:
Association's name, with English translation if given
(Official) abbreviation of the association name
complete address with telephone and fax
E-mail and homepage
Year of establishment
President and General Secretary and senior officials
Number of members, listed separately according to persons, organizations and companies
Memberships of international associations
Field of activity
The Directory serves as a general information / reference material for establishing direct contacts with; and for generating business opportunities for these associations.
Industries included in the Directory are:
Agriculture; Food and Related Products; Energy and Raw Materials; Metallurgy and Metalworking; Mechanical Engineering; Vehicle and Transport Equipment; Chemicals and Pharmaceuticals; Rubber and Plastics; Wood and Furniture; Construction and Public works; Glass, Ceramics and Building Materials; Precision Equipment; Information Technology and Telecommunications; Electrical and Electronic Equipment; Paper and Cardboard; Leather and Shoes; Textiles and Clothing; Printing and Publishing; Miscellaneous Products; Transport Services; Miscellaneous Services.
The China Directory of Trade & Business Associations is a vital source of Business Information providing Libraries and Researchers with all the vital commercial intelligence one needs to compete effectively in China.
Book, PDF & CD-ROM Edition
US$250.00 incl. delivery
ISBN: 978-1-925109-73-3
---
« Go Back