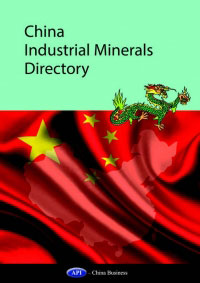 China Industrial Minerals Directory 2021
Access a wealth of information instantly with the China Industrial Minerals Directory!
This Directory is the definitive guide to Manufacturers' and traders throughout China!
The China Industrial Minerals Directory is the best data source on obtaining minerals available. This new edition it has been completely updated and expanded to reflect changes in the state of the China mineral markets. This includes more detailed much more information on the suppliers and the inclusion of e-mail and website addresses. The China Industrial Minerals Directory has now become the ultimate companion for today's mineral buyer.
Industrial Minerals included are:
Aggregates; Alunite; Asbestos; Asphalt, Natural Ball clays; Baryte; Bentonite; Borates; Brines; Carbonatites; Corundum; Dimension stone; Diatomite; Feldspar and Nepheline – Syenite; Fluorspar; Fuller's earth; Granite; Graphite; Gypsum; Kaolin; Kyanite / Sillimanite / Andalusite; Limestone / Dolomite; Marble; Mica; Olivine; Perlite; Phosphate; Potash –Potassium minerals; Pumice; Quartz; Salt; Slate; Silica sand / Tripoli; Soda ash; Sodium bicarbonate; Sodium sulfate; Sulfur; Talc; Vermiculite; Wollastonite; Zeolites.
Key Benefits:
If you're a producer - find out where you fit within the industry, and discover the opportunities to expand your business.
If you're a trader - source new suppliers instantly by product across China.
If you are a consumer of industrial minerals - discover where new suppliers are and making purchasing decisions based on competitive prices
If you supply processing equipment to the minerals industry - be ahead of your competitors in the search for potential new clients for your goods and services
If you are an analyst/consultant - save time with access to thousands of records at your fingertips.
This Directory will also enable you to:
Search By Company: With full contact details of thousands of companies including names of executives, subsidiaries, markets, trade figures, financial details, number of employees, the range of mineral products supplied, etc.
This Directory has been especially compiled to assist with market research, strategic planning, as well as contacting prospective clients or suppliers. It is also an indispensable guide to China's industrial minerals companies.
Whether you are buying or selling metals or minerals, this new Directory will make an extremely worthwhile investment.
Book, PDF & CD-ROM Edition
US$250.00 incl. delivery
ISBN: 978-1-925109-70-2
---
« Go Back